ABOUT
Make Life Studio is an artist owned and operated creative production and recording studio located in Clinton Hill, Brooklyn by the Navy Yard. The studios wabi-sabi/lush vibe aesthetic provides the perfect urban escape for audio recording, songwriting sessions, photo & video shoots, podcasts, live streamed events, music rehearsals and more.  
Our unique railroad-style suite features a dedicated control room with 16 channel multitrack recording via UA Apollo x8 and vintage Carvin MX1608 mixer, a live room with 5 piece Pearl Master Customs drum kit, and a centrally located lounge/songwriter's nook. Additionally, guests have access to an iso booth with floor to ceiling plant wall and our equipment locker with a curated selection of audio, lighting and production essentials.  
Throughout the recording studio, guests will be immersed in exotic plant decor, fully customizable Phillips Hue lighting and hand crafted birch plywood finishings all framed by a Japandi inspired interior.
HOURS:
OPEN TUESDAY - SUNDAY // 10AM - 10PM
closed mondays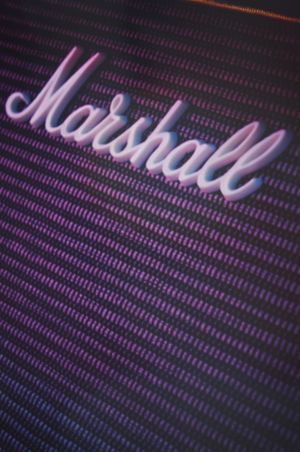 JOIN OUR COMMUNITY OF STUDIO MEMBERS AND GAIN MONTHLY ACCESS AT A FRACTION OF THE COST.
OVER 400 FIVE STAR REVIEWS!
"(They) were so gracious and courteous with their space. It has such a nice ambiance and the rooftop is a nice addition too. I plan on booking here again immediately!" 
Billboard
"A beautiful space for visuals and recording. Good vibes all around! Ethan the engineer is supercool!"
Recording Artist
"It's clear when people really care about the details and here they just planned it all. I had an amazing experience filming at Make Life Studio and it's a very versatile location for many activities. Can't wait to be back!"
Ultra Music
"(Their team) was easy to communicate with. We're really pleased with how our video shoot went."
Collective Entertainment
"I've been to plenty of studios in NY, LA, MIA, etc. But Make Life Studio is hands down the best I've ever been to!! The space comes with everything you could possibly need. The Vibes are Incredible! You're guaranteed to make a hit here."
Recording Artist
"Incredible space, unique and great backdrop. Would definitely book again."
Logitech
EQUIPMENT
GUITARS/BASS 
Taylor BT1
Fender Mustang 90 Pau Ferro
Epiphone Thunderbird Vintage Pro
Marshall Origin 20W Combo 
Peavey Bandit 65
MIDI 
Native Instruments Kontrol 49 
HARDWARE 
Universal Audio Apollo x8 
Apogee Duet 2
Ferrofish Pulse 16
Carvin MX1608
SOFTWARE 
Pro Tools Artist 
Logic Pro X & Logic Remote 
Abelton Live 11 Intro
Maschine 2 
Native Instruments Komplete 13 Ultimate 
Universal Audio Console
Antares Auto-Tune Live 
COMPUTERS   
iMac 24 Inch (2021) Apple M1 
iPad 6th Generation  
HEADPHONES & SPEAKERS    
SONY MDR-7506 (4)
AKG  K240 (1)
QSC CP-8 (2)  
Yamaha HS8 (2)
KRK RP8G4 (2)  
MICROPHONES  
MP-T47 (1)
Blue Baby Bottle (1)
Shure SM57 (2)  
Shure Beta 58 (3)
Shure Beta 52 (1)
Oktava MK 012 (2)
Blue Yeti Pro (1)
Telefunken M81 (4)
LIGHTS & FILM
Neewer 480 RGBs (2)
Neewer 10.8 round bi-color pancake (1)
Neewer stainless steel tripod stands (3)
Logictech Streamcam (1)
Joby JB01507 GorillaPod 3K (1)
MISC   
Radial Engineering Pro DI
Warm Audio WA-DI-A active DI
Radial Engineering StageBug SB48
DRUMS  
SNARE 
Pearl Masterworks  
14x5.5 20 ply  
Evans UV2 head  
TOMS 
Pearl masters custom  
12x10 rack time  
14x12 floor Tom  
16x14 floor Tom  
Evans G2 heads  
KICK 
Pearl masters custom  
22x20 kick  
EMAD 2 head  
Pearl Eliminator Kick Pedal  
CYMBALS  
Zildjan  
14" master sound hi-hat  
16" A custom crash  
17" A custom Crash  
21" A series sweet ride
V-DRUM
Roland Octapad SPD-30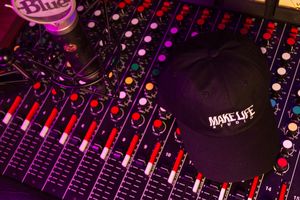 Studio Gear
 Shop our selection of custom pieces available exclusively at our new online store.